Canaan John Landry Moerman


Welcome to the excitement! The pictures below date from Canaan's birth. More pictures are in "photo gallery" one, two or three.

Canaan and Opa Christmas 2014 working on a wooden race car model
July 21, 2009: The days go quickly with more visits from family from out of town including Chantalle's Dad, Robert Landry from Montreal (who is running to be mayor of Deux-Montagnes) and Matt's brother Ben (who runs his small growing business in Grande Prairie, Alberta):
Julie will be the next mom (due November 24/09) and likes to hold Canaan to 'get the feel' of the future... Then too there's the inevitable pictures of Canaan that will show up in the slide-show at his wedding reception some years away when he will be saying under-his-breathe, 'aw, did you have to?':
When all is said and done Chantalle and Matt spell each other off to get some needed rest:
And yesterday Matt returned to his work as youth pastor in Maple Ridge (but is saving up his last week's holiday for the next opportunity he has to share extended time with his and Chantalle's young family. It can't be too soon!)...
July 11, 2009
All's going well with baby and parents - including enjoying visits from friends and family near and far.
To the right are Uncle John and Aunt Jeanne from Lethbridge; t
o the left Uncle Jim and Aunt Babette with daughter Esther.
Jim and Babette brought the chocolate cigars to celebrate! With plenty to go around...
| | | | |
| --- | --- | --- | --- |
| | I know, I know, you want to see Canaan John! Well he's regained and surpassed his birth weight and here is being loved by his Auntie Melanie (below). | Part of the fun, too, is all the great presents! Here's Matt (below) dreaming about the day little Canaan John will be romping around the farm in his cool farmer duds! | |
July 5, 2009
After church it didn't take Grandma and Grandpa (Oma & Opa) long to get to Matt and Chantalle's home where they had just arrived from the hospital with Canaan John.
Ok, the next couple pictures are rather self-indulgent as it's true we couldn't wait to hold Canaan John ourselves!
But others in the family had their turn as well...
Chris, (who is expecting his and Julie's first child in November):
Melanie watching Dad (Matt) get his turn:
What a loved little man!
July 4, 2009
The morning after, Carol and I woke up smiling! I reflected to Carol I found it ironic that the achievement I had contributed least to, I was finding myself proudest of: becoming a grandparent! And if that wasn't bad enough, the first thing I wanted to do, just like all the grandparents I'd seen before, was share the pictures! Ok, here goes (the short version as least)...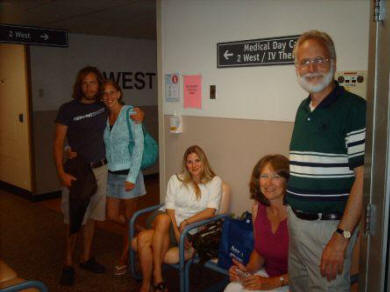 First, there's the eager family waiting outside the maternity door (beside Carol and I, there's our eldest son Chris with our daughter Melanie who is a maternity nurse in the hospital but wasn't on duty, and his wife Julie, seated).
We were beckoned by text and were prepared for a long wait.
However the baby came much quicker than anyone expected.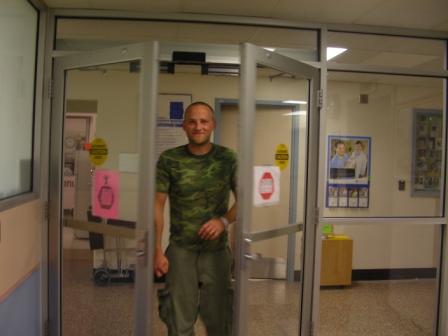 Then there's the happy father, Matt (below), coming to the door to announce the birth of the baby.
He had 'texted' us the news a few moments earlier but, wonderful rascal that he is, had only said 'Healthy, just cleaning everyone up' - without telling us if it was a girl or boy.
(Matt had told us confidently when the pregnancy was first announced that it would be a boy. Matt's always confident - that's one of the things everyone loves about him.)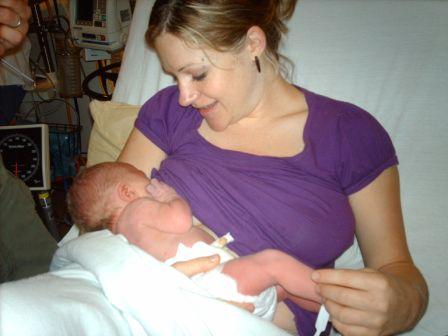 And here is their baby boy with Chantalle, his hard working mom!
"Canaan John" means "Hope for God's People." They chose the name because in the Biblical story the land of Canaan represented hope for the nation of Israel. It was a place of new beginnings and limitless potential.
We're delighted with Matt and Chantalle's vision for their son!
Canaan John at birth: July 3, 2009 (6 lbs, 14 oz.)
(John was also my father's name and the name we gave our first born, Christopher John, who with his wife Julie are expecting our second grandchild in November '09.)
Matt had a particularly close relationship with his Opa John, having spent a summer as a youngster on their farm.
Chantalle and baby are doing well. Chris and Julie (left) meet baby and watch anticipating God's gift to them also in a few months. We're so delighted with God's gift of allowing each of them and us this unspeakable joy!