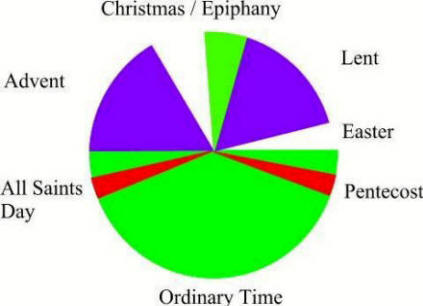 Christian Calendar
Growing in Christ
"He opened their minds so they could understand the Scriptures." Luke 24:45
(The image above depicts the proportion of the year dedicated to celebrations of the Christian calendar, along with the color associated with it by liturgical churches.)
Why Follow the Christian Calendar?
While following the Christian calendar is not in my view the best primary means of growing in discipleship, I've chosen to explain some aspects of it because of its prevalence in the institutional church and history. It was initially a primary means used by the church of reminding, particularly those largely illiterate before the invention of the printing press, of foundational truths and events in the Scriptures.
What Does the Christian Calendar Remember?
The Christian calendar does not begin with Creation or the beginning of Scripture but with the promise of the Messiah (Advent) in anticipation of the coming of Christ. After Christmas it follows the life of Christ through the celebration of His Sacrifice (Good Friday), Resurrection (Easter), Ascension, Pentecost and other important events celebrated by those who follow Him. There are many Scriptural events, such as our expectation of Christ's return, not covered by this calendar but those that are celebrated are centrally significant.
(Some students of the Christian calendar are particularly concerned with "how" and "why" certain dates have been selected for these celebrations. In short, there have been several historical approaches to calendar-making and some dates have been chosen to challenge pagan festivals by infusing Christian meaning to counter them with greater truth of Christ. I will leave reflections the appropriateness of that strategy to others. My reflections are concerned rather with the more important matter of the meaning of each of these days to the life of the disciple of Christ.)
For a brief overview of each of the following seasons of remembrance and worship from a Biblical perspective, please click on the links below:
| | | |
| --- | --- | --- |
| Advent | Passover | Pentecost |
| | | |
There are additional days which, while not on the church calendar, were reformed from pagan festivals to a higher form such as Valentine's Day.