Divorce
For years our society has been telling itself that divorce is the solution to relational challenges in marriage, to put our personal fulfilment first, etc. Fortunately, no more ...
However it's a long way back. Trends over the years have weakened the will of many to do what God calls us to in marriage - forgive, put the other first, accept responsibility for our own shortcomings as revealed by our spouse and discipline our appetites.
I would encourage you to never say, to yourself or to your spouse, the word "divorce."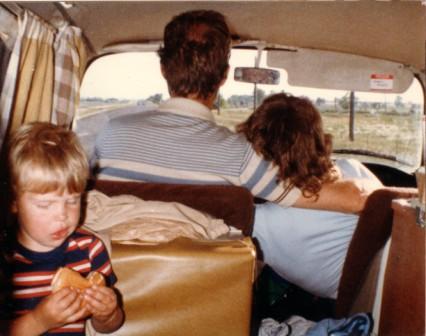 Murray and Carol with Ben in 1984 (above)
If you are not sure or have a friend considering divorce, please read the following reflections of Chuck Colson of BreakPoint:
"A few weeks ago, I was astonished to find Time magazine exposing how the collapse of marriage harms women, children, and the poor. No Christian could have made the prudential arguments for marriage more impressively.

Not to be outdone, the New York Times has just run a piece announcing that divorce can make you sick-sometimes for the rest of your life.

The Times described the findings of a study of more than 8,600 people in their 50s and 60s. The study sought to determine how divorce, widowhood, and remarriage affected their health. The authors' conclusion: "The physical stress of marital loss continues long after the emotional wounds have healed."

Among the divorced and widowed, men and women alike reported "about 20 percent more chronic health problems" including diabetes, cancer, and heart disease, than people who stayed married.

Even when people remarried, they had 12 percent more health problems than those who stayed married to their first spouse. The study revealed that "most married people who became single never fully recovered from the physical declines associated with marital loss," the Times said.

The study was authored by University of Chicago sociology professor Linda Waite, an expert on marriage and divorce. Waite is the co-author, with Maggie Gallagher, of the book, The Case for Marriage: Why Married People Are Happier, Healthier, and Better Off Financially. In this book, the authors note that divorced, single, and widowed people are "far more likely to die from all causes," including stroke, car accidents, murder, and suicide. Perhaps this is part of the reason God says in Malachi, "I hate divorce."

The Times is quick to claim that staying in a bad marriage can lead to physical problems, too. But it's good news that major news outlets are writing articles like this. For decades, they have trumpeted the idea that divorce harms nobody, that children do just fine without fathers, and that we should all just do whatever makes us happy, maritally speaking, that is.

But now the problems of marital breakdown-and failure to form families in the first place-have become so severe that not even news outlets hostile to Christian teachings can deny it.

Articles that reveal the damage of living outside of God's design for us offer a great opportunity for the Church. I have long taught that only Christianity offers a reasonable system for how we are to live in the real world. Every day, it seems, we have more tragic evidence of the truth of that belief-provide by believers and non-believers alike who violate God's design.

You and I need to reach out to neighbors who have been taken in, and harmed, by secular teachings about marriage and divorce. We should befriend them, find ways to meet their needs, and invite them to church.

Those who have suffered the consequences of false worldview teachings may well now be open to Christian teachings-and how well they match up with health and happiness. And having learned this, they may be open to learning more about, and following, the loving Maker of these rules.

The test of any worldview is, can you live with it? When it comes to marriage, we now have scientific evidence that living outside of God's plan can literally make us sick."

August 19, 2009