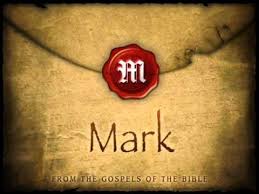 Gospel of Mark
Growing in Christ
"He opened their minds so they could understand the Scriptures." Luke 24:45
Overview of Old Testament or New Testament
Links to observations drawn from other other books of the Bible
(Have you watched the Jesus Film? Click here to view on-line or download.)
Practical and Pastoral Observations on the Gospel of Mark (please read each chapter slowly and meditatively before reading comments below). Reflections on each chapter are drawn from my personal interaction with the chapter in a daily quiet time.
Introduction: The Gospel of Mark is widely seen as the collaborate testimony of Mark (a young man leaving his 'signature' at Mark 14:51-52) and Simon Peter, who may have led Mark to Christ (I Peter 5:13). Peter's personality and bent for decisive action is seen on nearly every page. Mark shares the Gospel in terms Roman hearers could best understand, adding Latin words and interpreting the less-known Aramaic, omitting a Jewish genealogy of Jesus and Jesus' condemnation of Jewish sects which would mean little to Gentile readers, and focusing somewhat more on Jesus' actions than His teachings.
Mark follows the ministry of Jesus with special emphasis on the powerful dynamic of the Gospel to set people free from all sorts of oppression. He does so as Servant and King, recognized for His unparalleled authority (1:27) and willingness to serve as ransom sacrifice (10:45).
The Gospel may be outlined to the Service of the Servant (1:1-10:52) and the Sacrifice of the Servant (11:1-16:20)
John Mark is the son of Mary (Acts 12:12) and a cousin of Barnabas (Col. 4:10). Mark accompanied Paul and Barnabas on part of their first missionary journey and Barnabas on his second journey. Mark is widely viewed as the first of the Gospels, dated about 55AD.
Mark 1
The Good News is Jesus Christ (v.1) who brought God's Kingdom (v.15) which requires preparation of heart on our part. The early church called itself simply "the way" (v.2), referring to entering the Kingdom of the Messiah.
There had been no prophet for 400 years; John now appeared preaching repentance like the ancient prophets, dressed like Elijah (v.6; 2 Kings 1:8) who was expected to return (Mal.3:1).

There were precedents to John's baptism but this was different in two ways: 1.) Some Jews practiced self-immersion, John provided a public witness to repentance (Ryrie). 2.)The Qumran community had initiatory 'baptism' repeated regularly, but John's baptism was once for all. (NLT).
Empowerment and Testing: The baptism of the Holy Spirit (v.8) initiates Jesus' ministry (v.10) and is confirmed by the Father's voice (v.11). Jesus was "cast out" into the wilderness to be tested (means both tested by God to prove what the person is; and tempted by Satan to evil) for 40 days (recalling Israel, tested 40 years in the wilderness) in preparation to be used of God as blessing to all the world. Our 40 days of Lent offer our lives for similar refining and tempering for usefulness in the Lord's hand.
The Kingdom of God (v.15) is not so much a limited physical territory as the Father's righteousness and holiness surrounding Jesus and His followers. Prayer (v.35) draws on the power of the Spirit (v.10) to live God's Kingdom in it's fullness.
The Scope of the Kingdom: The Kingdom touches all of life. We are called to participation in it through Christ's rescue mission (v.17) including proclamation (v.15) deliverance (v.25) and healing (v.30ff & 40ff) with authority from above (v.27).
Jesus wanted no entanglement with unclean spirits (v.24) and we likewise should avoid dialogue. Jesus' healing did not follow a single formula (v.31,41) but had the single purpose of bringing the presence of the Kingdom.
Personal Application: I will follow Jesus in His call to the righteousness and holiness of the Kingdom (v.1-8). I rejoice in the affirmation of the Father (v.9-11) and victory over Satan's efforts to sideline His purposes (v.12-13). I accept Jesus' proclamation (v.14-15) and call to join in His rescue mission (v.16-20). I will wield Jesus' authority in deliverance (v.21-28) an healing (v.29-34; 40-45) drawing strength and focus from communion with the Father (v.35-39).
My Prayer: Father, the Kingdom is at hand, around me and within me and manifest in what You do through my testimony in Your reign of forgiveness, authority and compassion. Manifest Your Kingdom fully through me I pray.
Mark 2
Jesus' Identity and Authority as Son of Man: Jesus' proclamation and demonstration of the Kingdom of God is immediately controversial because of His claim to have authority to forgive sin (v.10) and being Lord of the Sabbath (v.27-28). Both claims involve the prerogatives of God (v.7). Jesus underscores His utterly unique relationship with God and us, calling Himself the Son of Man (v.10, 28) spoken of in the OT as judge, sacrifice and representative of humankind (Daniel 2:13-14; Isa 52-53; Ezekiel 8:5-17).
The Old and the New: Each incident in the chapter extends the scope of the Kingdom and Jesus' role in it - to the point that Judaism, focused in Temple rites and the Pharisee's application of the Law, is an old wineskin to be left behind (v.21-22) to embrace the Kingdom. We should not be surprised to find that our following Christ and allegiance to His truth-claims are controversial today as they were at the start.
Personal Application: I will enjoy time with those who know they are sinners (as I know I am prone to sin (v.17), seeking to extend grace to them also. I will fully enjoy the peace and freedom of forgiveness even though I may continue to experience consequences of sin, mine and those of others, to remind me of the greatness of God's grace.
The fact natural consequences of sin may remain in our human experience even after forgiveness (e.g. lung cancer after smoking, broken relationship after unfaithfulness). This does not mean God has not forgiven or is still punishing us. "The Son of Man has authority on earth to forgive sins" (v.10) and does so; we are washed clean in God's sight for eternity. Either we are forgiven by God or we are not; in Christ we are.
My Prayer: Father, Jesus is so radical and amazing I see even those who dismiss Him cannot do so easily. I will never dismiss Him and don't want to miss anything about Him, embrace Him wholly every moment, Savior and Lord.
Mark 3
Misunderstanding and Opposition: After initial amazement (1:27), opposition and controversy followed almost immediately (2:7, ch. 3 ff) and followed Jesus to the cross. Opposition came both from the rabbinic tradition (v.6) and from His own family (v.21) with charges ranging from being disobedient to the law (v.2) to being unwell (beside Himself, v.21) to being possessed by Satan (v.22).
Blasphemy against the Holy Spirit (i.e. charging the Holy Spirit with drawing strength from Satan, or more generally attributing the work of God to Satan) is to set oneself outside of the salvation of the Kingdom of God.

Tradition and Scripture: It was rabbinic tradition, not scripture, which forbade practicing medicine on the Sabbath (v.2) and which attributed healing to Satan (v.22), "as in the rabbinic work, Sanhedrin 3:43a, where miracle-working is ascribed to sorcery (NLT)".
Jesus Response: Jesus was both grieved and angry (v.5) with this resistance to the Kingdom, defended himself against false charges (v22.-35), and continued His work to establish a new humanity demonstrating the Kingdom of God (appointing emissaries, v.14-15 and placing Kingdom loyalty above genetic kinship, v.35: "Whoever does the will of God, he is My brother and sister and mother."
Choosing His Time: Jesus' warning to demons (v.12) and those He healed (1:44) to be silent about His power (1:43-44) and identity (2:11) and may reflect Jesus' desire to choose the time of His Passover sacrifice. News of a rival Kingdom would be quickly suppressed by the Romans as was news of Jesus birth by King Herod.
Personal Application: Jesus calls us in the face of misunderstanding and opposition to both take the initiative in proclaiming and extending the Kingdom (v.13-15) and in doing the will of the Father (v.35); not in secret but openly. I will do the will of my Father (v.35) in the spirit He intends. I will be proactive, not passive in my obedience. I will not draw back because of opposition or misunderstanding.
My Prayer: Lord Jesus, how frustrating it must have been to be called evil by those wearing a 'cloak of righteousness' opposing Your healing on the Sabbath and deliverance from Satan (as secular law today judges as evil those seeking to rescue babies from death). Help me to not to give up or withdraw into passivity in any area of Your good and holy will.
Mark 4
Parables test the spiritual responsiveness of those who hear (Ryrie), causing us either to want more and bear fruit, or to turn away. About 1/3 of Jesus teaching is parable (a broad term including simile, metaphor, proverb, story, allegory) both giving light (v.21-25) and withholding it (v.11-12); in that process revealing the condition of the heart (v.33,34).
Fruitfulness (v.8,20,25,28) is not singularly defined but seems to involve suitability for life in the Kingdom including loyalty in spite of temptation and hardship, growth in character and understanding, and following Jesus in ministry including further sowing the seed and making disciples.
The Kingdom of God grows by the power of God (v.27-28) and will become large (v.32) before the harvest comes at that time God deems it ready (v.29).
Stilling the Storm: The disciples recognized Jesus to be far greater than they had thought but He was so 'other' they feared Him (v.41).
Jesus was frequently frustrated by the slowness of the faith (v.40) and understanding of His disciples (v.13), eager that they, and we, yield the full fruit He desired to see in them and us. The range of responsiveness to the call of the Kingdom is great: from dullness to hostility to eager embrace. (The Romans and some Jewish leaders would have seen "another king" as threat.)
Personal Application: I will be a window through whom shines the light of the Kingdom. I will remind myself hourly that I am a citizen of the (rightful) Kingdom while living in the (unrightfully) occupied world. I will trust the true and rightful King and enjoy His good presence in any storm or distraction.
My Prayer: Father, shine the light of Your presence on my heart that I may embrace You and the fullness of Your Kingdom. Father, cast out all fear - including 'natural' fears like claustrophobia and the evil one himself in Your greater presence.


In process...please come again...