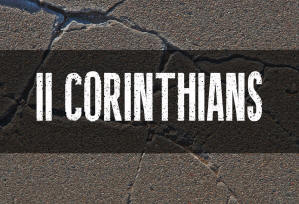 2 Corinthians
Growing in Christ
"He opened their minds so they could understand the Scriptures." Luke 24:45
Overview of Old Testament or New Testament
Links to observations drawn from other other books of the Bible
Paul shares with a struggling church the powerful effects of the Cross of Christ.
Practical and Pastoral Observations on 2 Corinthians (please read each chapter slowly and meditatively before reading observations below):
Introduction: Corinth, even by standards of the day, was a city known for its striking immorality. The temple of Aphrodite employed 1,000 prostitutes. The Greek korinthaizomai ("to act like a Corinthian") came to mean "to fornicate." Acts 18 describes the founding of a small church in this context during Paul's second missionary journey. The church faced many struggles, some of which Paul addresses in this letter, written about 55AD. The central theme is the cross of Christ and it's practical implications for personal and community life.
2 Corinthians 1
God's grace brings peace (v.2), mercy and comfort (v.3). He is faithful to His Word (v.20), He establishes, anoints and seals us with His Holy Spirit as pledge (v.21-22) of our sure hope.
Suffering and comfort: Though we suffer - sometimes in the service of others, by God's grace comfort is equally abundant (v.5). The comfort we give to others is the comfort we have received from God (v.4). All we have we have received. We are faithful because God is faithful (v.18).
Helping and being helped: Paul's plan and expectation was to receive help (probably goods and finance) to continue from Corinth to Macedonia, then again to receive help on his return to Judea (v.16). Help may be mutual or one-way. Helping is a "new-normal" in Christ.
The Unequivocal Yes in Christ: Our "yes" must be authentic but, even as such, is simply an echo, affirmation and "amen" to the prior, eternal YES of God (v.20). He is us who established, anoints and seals us in pledge of His promise. (v.21-22).
Afflicted to the point of despair: When I am burdened beyond my strength, despairing even of life (v.8), I set my hope in God who raises the dead (v.9) and will deliver us (v.10). Why does God allow such extremity? So that we may learn fully to trust (v.9). v.20 "For as many as are the promises of God, in Him (Christ) they are yes; therefore also through Him is our Amen (Yes) to the Glory of God through us."
Personal Application: I will be a comforter: in comfort or suffering (v.5) I will look for opportunities to comfort others with the comfort with which I have been comforted (v.4). I will be faithful: through all, to my word (v.18-19) as God is faithful to His.
My Prayer: Lord, established in You by Your "Yes" and comfort, in all circumstances and challenges, let my life also be this "Yes" and a comfort to others as I listen and speak with those around me.
2 Corinthians 2
Satan's schemes: Satan work is multi-faceted. He seeks a full destruction of the sinner in the Corinthian congregation through excessive sorrow in self-accusation and introspection (v.7), harm to the whole congregation (v.5), estrangement between the Corinthian congregation and Paul (v.4), and ongoing sorrow in Paul's heart (v.13, the "unrest") of not knowing the response of the Corinthians to his 'sorrowful letter' (v.4).
Satan must be overcome. Christ is the One who overcomes him. Thanks be to God (v.14)!
Forgiveness is not complete until the forgiven person is also comforted (v.7) and reaffirmed in love (v.8) in the presence of Christ (v.10). Let not the person be overwhelmed by excessive sorrow (v.7) and be taken advantage of by Satan (v.11).
God always leads us in triumph: God's triumph in Christ is over Satan, sin and its consequences both in individuals and in community. The image of triumphal procession is from the common Corinthian experience of a Roman general parading captives through the streets. In these parades incense was burned to the Roman gods and emperors. In a greater way, Christ in those whom He leads in victory, is a "sweet aroma" bringing the knowledge of Him everywhere (v.14). This Gospel of victory over Satan is simultaneously a foretaste of "life to the believer and death to the rejecter" (Ryrie) (v.16). As such, the Gospel takes from Satan his ability to take advantage of the breakdown in relationship in Corinth (v.11). Victory is certain. We can affirm:
I triumph only "in Christ" (v.14);

I am a fragrance "of Christ" TO GOD among those being saved / perishing;

I am always sincere, i.e. consistent with being in Christ, speaking "in the sight of God" (v.17).
Personal Application: I will quickly accept the repentance of the sinner, as God forgives me. I will put the matter behind me so Satan can take no advantage. I will judge my sincerity in all things by these standards: is my word or action "from God" (would God do it?), is it consistent with being "in Christ," and does it stand up "in the sight of God" (v.17)?
My Prayer: Lord, make my life such a fragrance of Christ, sincere and triumphant for the Gospel and for Your Glory. Cause me to know every hour the manifestation of your victory over Satan, allowing no bad odor near me, only the sweet aroma of the knowledge of God in Christ in every time and place.
2 Corinthians 3
We Commend not Ourselves because we are not adequate in ourselves. Adequacy is and comes only from God (v.5) who gives us, as servants of a new covenant (v.6), grace and even glory.
But the work of the Spirit is changed lives in Christ for which only the Lord is adequate. The Spirit of God writes a letter to the world on human hearts (v.1) which produces confidence (v.4), adequacy (v.5), life (v.6), glory (v. 8), hope and boldness (v. 12), freedom (v.17) as the Holy Spirit transforms us into the image of Christ (v.18).
Two Covenants are at work and can be set side by side, the letter which cannot give life and the Spirit which does (v.6).
Moses and the Law: On the one side is the letter of the law which, though glorious in the context of the sin in surrounding nations, was not adequate in itself. In revealing sin it ministers condemnation and death. The glory of God in the face of Moses was veiled and faded away. Those today who look to Moses alone remain veiled (v.15) and cannot see the fullness of the glory of God.
Christ and the Spirit: On the other side, given in Christ, is the Holy Spirit. The ministry of the Spirit is life, the righteousness of Christ and unveiled glory. This covenant gives hope and liberty leading to boldness and greater glory. V.18: "We all, with unveiled face, beholding as in a mirror the glory of the Lord, are being transformed into the same image from glory to glory, just as from the Lord, the Spirit."
Personal Application: I am reflecting the grace and glory of Christ more and more and, like Paul, encouraging others to join in the glorious journey of grace. I am gazing at Christ. I am adequate in Christ and being transformed into His image. I will walk this life in hope, confidence and boldness.
My Prayer: Father, the covenant of Moses brought to the earth great glory, though we were weak and could not rise to it. But the covenant of Christ raised us up in the cross and resurrection to walk in grace, liberty and glory. Praise your name! Lord, I would gaze on your face forever, transfixed and transformed!