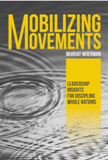 Mobilizing Movements: Leadership Insights for Discipling Whole Nations
What: A book of leadership insights for practitioners committed to the Great Commission. The "Discipling a Whole Nation" vision was first cast widely in DAWN 2000 (1989). Much has been learned since then. My hope and prayer is to share those insights with a new generation of leaders breathing the love of Christ for every nation, people group and social network.
Who: for all those with a heart to see the earth filled with the glory and grace of God in Christ; church planters, disciple-makers, mission strategists, intercessors, teachers and students of missions, pastors, movement leaders.
Table of Contents: here
You can get it in:
Americas - Brazil: Amazon.com.br
- Canada: Outreach Canada or Amazon.ca
- Mexico: Amazon.mx
- USA: William Carey Publishers or Amazon.com
Asia - India: Amazon.in
- Japan: Amazon.co.jp
- Singapore: Amazon.sp
Europe - Germany Amazon.de
- France: Amazon.fr
- Italy: Amazon.it
- Netherlands: Amazon.nl
- Poland: Amazon.pl
- Spain: Amazon.es
- Sweden: Amazon.se
- Turkey: Amazon.com.tr
- United Kingdom: Amazon.co.uk
Oceania - Australia: Amazon.com/au