Hope

Growth in Character: Rooted in Hope
Our hope is firm because it is rooted in the One who is greater than suffering or history.


Christian hope isn't a feeling. It is not wishful thinking. Hope is rooted in a certain future guaranteed by the victory of Christ's resurrection for us. Yet "faith is being sure of what we hope for and certain of what we do not yet see." (Hebrews 11)
Hope is rooted in Christ and the certainty the promises made by the God who is faithful and speaks only truth, the One who speaks promises which are certain and always have their "yes" in Christ (2 Corinth 2:20).
It is always true that "God works in all things for the good of those who love him" (Romans 8:28). The invitation and promise is always true: "Believe on the Lord Jesus and you will be saved" (Acts 16:31).
We have an anchor in the storm: When the storms of life are great I think of Jesus who has gone before us, through the veil, into heaven, knowing: "We have this hope as an anchor for the soul, firm and secure. It enters the inner sanctuary behind the curtain, where our forerunner, Jesus, has entered on our behalf." (Hebrews 6:19-20)
Hope is for the Future: Promises abound for us about future realities. God has promised believers that Christ will come again, will redeem our bodies, will make us holy, will let us share in His glory, and will give us eternal life. This isn't simple optimism. And it isn't hope pinned to a fallible human leader. This is a firm hope in the Creator and Redeemer.
Hope is for the Present: Hope, anchored in the rock of Jesus Christ, has powerful effects in our broken lives and world, here and now. It is irrepressible in the face of oppression.
Consider this: "God has called us to live our lives as a bold act of hope. Hope expects all things, large or little, to be overwhelmed and filled with the immense glory of Christ. Thus, true hope pursues global glory and total triumph over evil. Lives of hope can face great evil with relentless courage, since there is no telling how soon God will break through with ultimate victory." - Jon Morrison
John Piper has identified four fruits of Christian hope: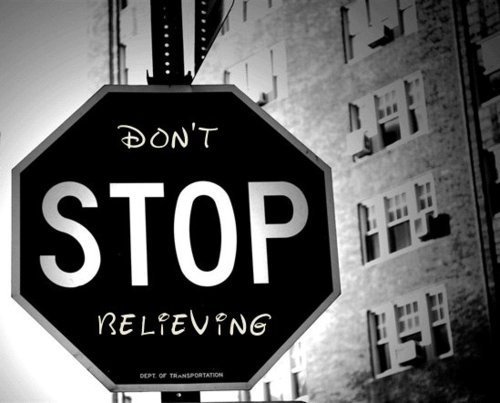 First, Christian hope bears the fruit of true joy. Unlike happiness, joy is not dependent upon circumstances.

Second, Christian hope produces sacrificial love. When we aren't obsessing over self-preservation, we are free to give ourselves to others.

Next, Christian hope yields boldness. The hopeful Christian is realistic about the reality of the world's problems, but is also certain of God's ultimate victory.

Finally, Christian hope bears the fruit of endurance. When setbacks come-and they do-Christians who have their eyes fixed firmly on God's promises can continue in the good fight. We can press on because we know that our actions aren't in vain. 1 Corinthians 16:58: "Therefore, my dear brothers and sisters, stand firm. Let nothing move you. Always give yourselves fully to the work of the Lord, because you know that your labour in the Lord is not in vain."
Ancient Trust: An early reformation catechism put it this way...
Q. What is your only hope in life and death?
A. That I am not my own, but belong with body and soul, both in life and in death, to my faithful Saviour Jesus Christ.
He has fully paid for all my sins with his precious blood, and has set me free from all the power of the devil. He also preserves me in such a way that without the will of my heavenly Father not a hair can fall from my head; indeed, all things must work together for my salvation. Therefore, by his Holy Spirit he also assures me of eternal life and makes me heartily willing and ready from now on to live for him.
- Heidelberg Catechism