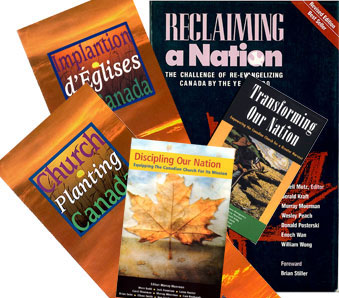 "Whole Nation" Church Planting Strategy in Canada
The dissertation (below) was prompted by the vision of a cooperative effort on the part of the entire church in the nation to reach every people group and geographic area for Christ.
Murray Moerman, "The 'Discipling a Whole Nation' Challenge for Canada" - D. Min. Dissertation. Fuller Seminary, Pasadena CA, 1991
PDF RTF Dissertation Proposal
PDF RTF Table of Contents
PDF RTF Intro
PDF RTF Chapter 1 - A Theology of Church Growth
PDF RTF Chapter 2 - The Work of Evangelism and Church Planting
PDF RTF Chapter 3 - The Need for a Canadian "Whole Nation" Church Planting Strategy
PDF RTF Chapter 4 - Research Methodology
PDF RTF Chapter 5 - Priority Needs for New Church Planting
PDF RTF Chapter 6 - Practical Steps Toward Planting 6,700 New Canadian Churches
PDF RTF Conclusion
PDF RTF Bibliography

1996 - 2005 were then devoted to facilitating a movement in Canada to pursue this vision and strategy (including "Church Planting Canada" publications, here).
2006 - 2010 were devoted to encouraging a similar strategy in Europe while serving new and existing teams as Area Director for One Challenge.
2009 to the present have been committed to enlarging the strategy through www.gcpn.info.